What is a Base Price?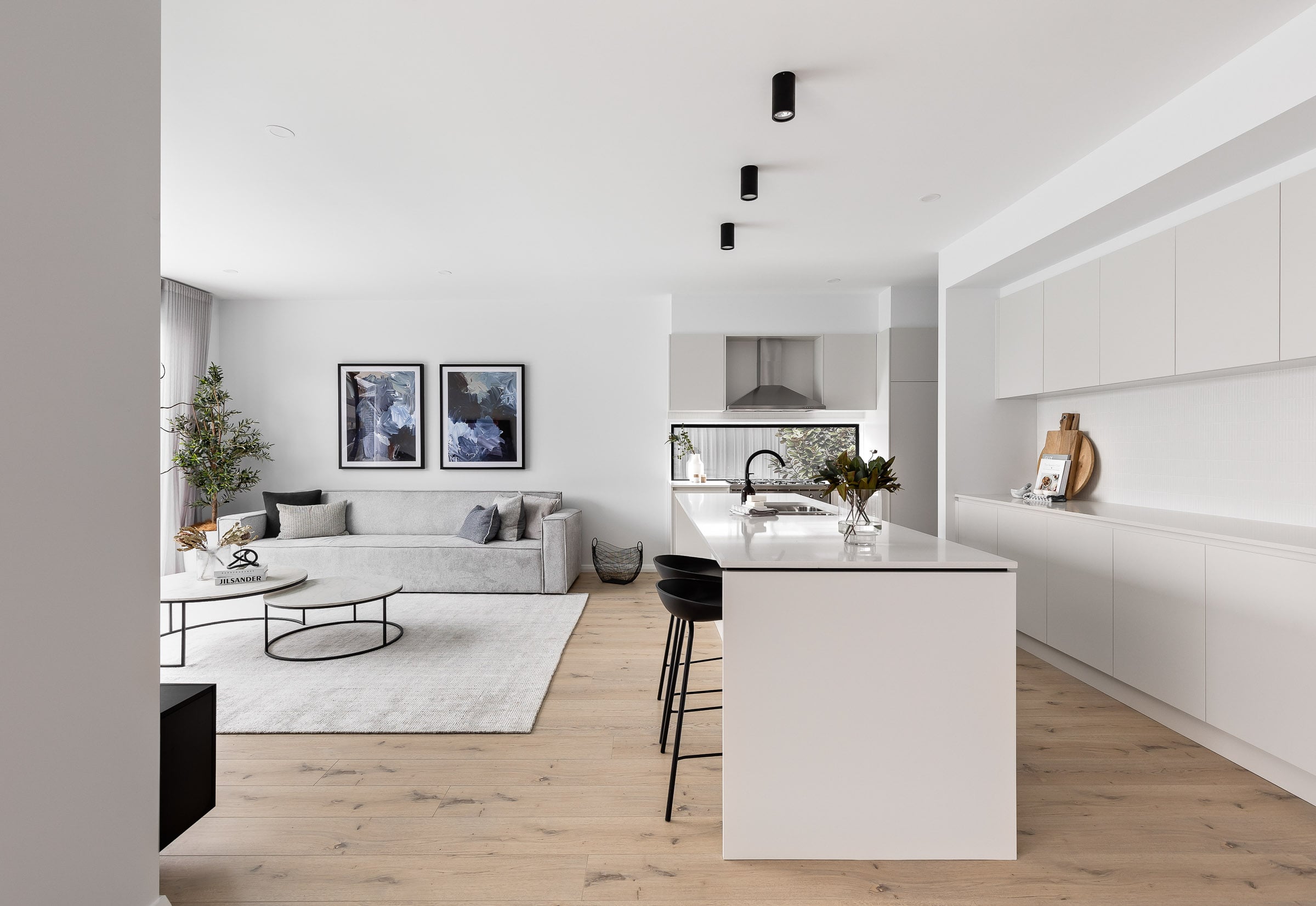 Imagine the thought of purchasing a home without any flooring in the home or even flooring for your porch or alfresco. It would be absolutely absurd, right? Surprisingly, there are builders who do exclude the essentials from their base prices just to appear more affordable at the start. The reality is that not all base prices are created equal at first glance. We want to shed some light on base prices to assist you on your build journey.
What exactly is a base price?
A base price refers to the cost associated with a fixed set of features that a builder considers standard. You may come across builders who offer attractively low base prices but be cautious because not all builders share the same definition of "standard inclusions."
Shouldn't I aim for the lowest base price?
It's natural to be enticed by a lower base price and in particular in these market conditions. We understand that many people shop around for the best deal, and that makes perfect sense if all base prices included the same features. However, upon closer examination, you'll often notice significant variations in the inclusions within base prices. While it may appear as a great deal initially, the true value becomes evident once you delve deeper.
What should a base price encompass?
As potential homebuyers, it's crucial to carefully evaluate base prices and analyse what each builder has included or excluded. Therefore, it's important to begin by thoroughly reviewing the inclusions provided by each builder. If the list of inclusions is vague or difficult to access, that should raise a red flag.
At King Homes NSW, we believe in upfront and transparent pricing. Our Standard Inclusions Checklist provides a comprehensive breakdown of all the key features included in our base price, allowing you to genuinely compare the value we offer against our competitors.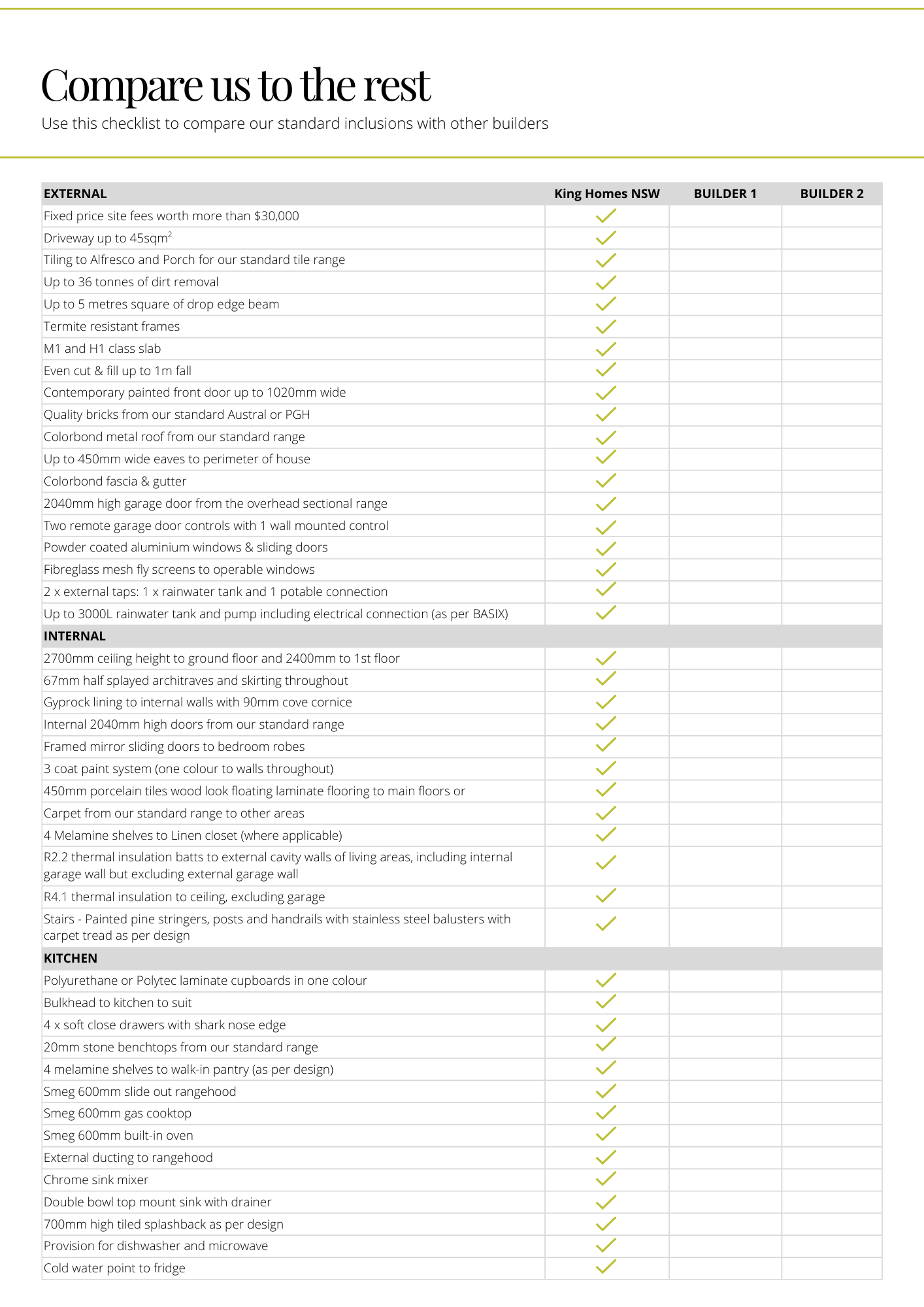 Our Standard Inclusions Checklist covers a wide range of features, including appliances, sinks, tapware, fixtures, finishes, flooring, ceiling, paint, doors, handles, staircases, vanities, basins, showers, baths, windows, roofing, garages, connections, and much more. This guide simplifies the process by giving you the opportunity to record the inclusions of other builders you're considering.
Download our Standard Inclusions Checklist
How do King Homes NSW's inclusions stack up?
We take pride in offering competitive inclusions with every home we build, and we back it up with a guarantee. Some of our inclusions include:
- Talostone benchtops in your kitchen
- Smeg appliances
- Floor coverings throughout including porch and alfresco
- 3 coat paint system
- Driveway
While some builders may categorise these items, such as stone benchtops and flooring, as bonuses or upgrades, we firmly believe in providing high-quality inclusions from the beginning. We only work with Australia's top brands and utilise premium products, so there's no need for you to constantly upgrade every standard inclusion listed in your base price. Our standard inclusion materials and finishes can all be viewed at our very own Studio King Selections Centre.
In addition, every King Homes NSW client have the opportunity to complete their internal selections at our new Studio King Selections Centre. We have our own resident interior designers to help guide you through the process of picking all the materials and finishes for your new home under one roof.
While certain base prices may appear more expensive than others, it's important to scrutinize them closely. Some builders, including King Homes NSW, prioritise transparency, provide detailed information, and offer exceptional value.
If you have any questions, our team would love to chat about your build ideas. Get in touch with our team