Contemporary Ideas For Your Duplex Design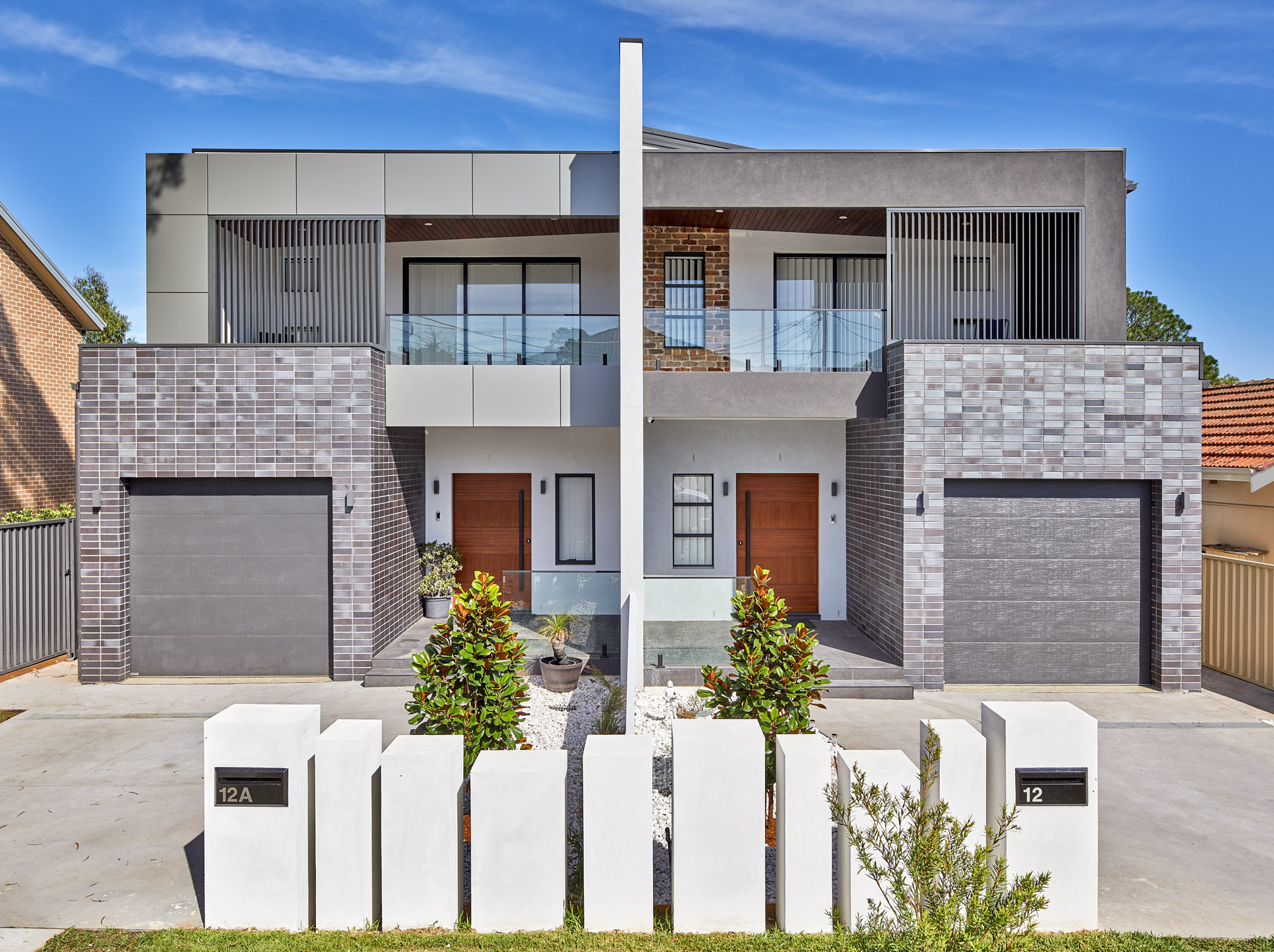 Duplex homes or dual occupancy builds are becoming increasingly popular. As our way of living changes, we often consider how we can accommodate in-laws and adult children or create an additional income from renting out the other side.
A duplex, or dual occupancy, allows a homeowner to capitalise on their property by building two dwellings on one block of land. Flexibility is one of the key benefits of duplex development, especially for downsizers or investment-savvy clients. Although we have standard designs for dual occupancy builds which can work great for most blocks, we can also work together to create a custom design duplex builds in-house to ensure we can maximise space & value as well as comply with local council guidelines.
Ensure your land complies
Not every block is suitable for a duplex development but those that share certain features in common. Regulations vary considerably between councils, but blocks typically need to be at least 500 square metres in area and at least 15 metres wide. It's best to become very familiar with the regulations in your local government area before committing to a duplex build.
Have a chat to our team at one of our display home locations to see if your block of land may be compliant for a new duplex build.
Explore different layouts
One of the essential elements to consider is the duplex home design and plans. We have standard duplex designs but more often we find it's best to design a completely custom option to work with the block of land and your goals.
When designing duplex house plans, you must maintain a balance between privacy and openness. The socialising spaces should be located on one side of the duplex layout, away from bedrooms; perhaps an extended balcony or covered alfresco would work here.
Additional Read: How to Design the Perfect Alfresco Space for Your New Home
Design a distinctive outside
When designing and building duplexes, we find ways to ensure each side has its distinctive facade. This can include using contrasting colours or introducing a feature element on each side as its focal point. It may also be a requirement under your local council guidelines.
Key points to help in the decision-making process-
Cost
Building a duplex is taking on extra construction costs as we are building two homes. A duplex may be a single step to creating wealth and a firmer financial future with the right effort. Having two homes on one lot means you have the potential to make twice as much money for building equity or selling at market value. This is a plus for someone who wants to invest in real estate. However, consideration needs to be made to ensure you don't over-capitalise.
Maximised Prospective
When you build a duplex, the property becomes a valuable asset. The land potential is maximised and can quickly increase in value with little to no hassle of landscaping. The properties are so small that they appeal to younger families or individuals looking for lifestyle blocks with instant capital growth prospects.
Keep family close-by
It may give you a lot of peace to have elderly parents live next door so you can check on them or simply pop over for a chat while still having your own space.
Chat to use about your Duplex
If you would like to learn more about duplex designs and plans, please contact us. We would be happy to help you find the right design for your budget, block of land and goals. You can also check out our standard duplex designs here
Additional Read- Tips for choosing the right home floor plan that best matches your lifestyle